Hey, I actually wrote stuff last week!
*Getting on,
LAST WEEK'S REVIEWS
:
Mushishi Vol. 3
(still not in comics stores; check your bookland)
Kaput & Zösky
(coming soon: the conquests of Trondheim)
Plus!
BodyWorld
(Dash Shaw's
webcomic
, updates on Tuesdays)
Omega: The Unknown #6 (of 10)
All at
The Savage Critics
!
*Lots of curious exhibits,
THIS WEEK IN COMICS
:
Barefoot Gen Vol. 5 (of 10): The Never-Ending War
&
Barefoot Gen Vol. 6 (of 10): Writing the Truth
: Any week in which a new volume of Keiji Nakazawa's famed semiautobiographical Hiroshima tale arrives in English is a good one for comics, so I guess this week is automatically
great
.
Learn more here
. I can't say Last Gasp has been getting this 260(ish)-page, $14.95 books out in a timely manner, but we are gradually seeing more of young Gen's struggle to rebuild his and his family's lives in the face of nuclear devastation. I hope to read them soon.
Palooka-ville #19
: Pamphlet format, Drawn and Quarterly's
still got your back
. Another issue of Seth's one-man show means another chapter of his graphic novel
Clyde Fans
, which you'll recall having been in-progress since 1996. Admirers might as well dust off those back issues and plunk down the $4.95 now; I don't think this stuff'll be getting collected for a good while, and D&Q pamphlets tend to vanish from our world fast.
Gumby Vol. 1
: The first collected edition of writer Bob Burden's and artist Rick Geary's idiosyncratic, oddly
personal
take on the famous gob of stuff, more a melancholic ode to childlike idealism than a straightforward kids' book, although it'll function well enough as gently surreal funnies for the young. Totally worth a flip for Burden fans. It's full-color, 132 pages (with a Geary sketchbook section) and $12.95. But if it's vintage kiddie komiks ya want...
Harvey Comics Classics Vol. 3: Hot Stuff
: YEAH! Hot Stuff!!
That's who he is!
And the Devil Kids and Stumbo the Giant! Only $19.95 gets you 480 pages of
hot hot stuff!!
Everyone likes Hot Stuff. Everyone. He's a
devil
, but he's an awesome paper friend for children!! I bet he'd
even
look cute
stealing Spider-Man's
...
...
Nah... that joke doesn't work anymore. I'm too late.
Christ, what the hell am I going to do with this thing?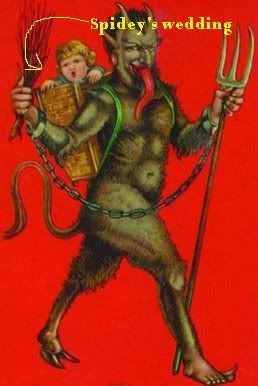 That took two months.
The Punisher MAX #55
: Beginning the extravagantly titled
Valley Forge, Valley Forge: The Slaughter of a U.S. Marine Garrison and the Birth of the Punisher
, writer Garth Ennis' six-part final storyline on maybe his most successful run in corporate-owned character comics. I thought last issue quite neatly wrapped up Ennis' arc for the character, in that he acknowledges he's not terribly different from some of the people he shoots, then deliberately rejects his chance to restore some 'family' to his life since, hey - more shooting to do. He knows he's building his own madness, but he finally can't bring himself to halt construction; in the end, he's the fitting embodiment of Ennis' running theme of violence circling around to ruin everyone. I expect this story -- both a present-day thing bringing back a bunch of surviving characters
and
a Vietnam origin-flavored flashback -- to act as an extended coda. Goran Parlov is the artist.
Preview here
; special guest!
The Last Defenders #1 (of 6)
: Meanwhile, Marvel also has this new revival series, with a story by Joe Casey & Keith Giffen, a script by Casey, breakdowns by Giffen, pencils by Jim Muniz, inks by Cam Smith, colors by Antonio Fabela, letters by... shit... RS & Comicraft's Albert Deschesne. Ok, enough of that. You'll have to consult
this preview
to find out who the assistant editor is. In the interests of symmetry, another Casey-written miniseries ends this week with the Eric Canete-drawn
Iron Man: Enter the Mandarin
#6 (of 6).
See it now
.
Gutsville #3 (of 6)
: Always nice to see another one of these; Simon Spurrier & Frazer Irving continue their study of theocrats & others inside of a large thing. Image also has
Madman Atomic Comics
#7 this week, completing the current storyline.
V for Vendetta as Cultural Pastiche: A Critical Study of the Graphic Novel and Film
: A
McFarland
prose volume by James R. Keller, which "
examines in detail the intersecting texts of V for Vendetta. Subjects include the alternative dimensions of the cinematic narrative, represented in the film's conspicuous placement of the painting The Lady of Shalott in V's home; the film's overt allusions to the AIDS panic of the 1980s; and the ways in which antecedent narratives such as Terry Gilliam's Brazil, Huxley's Brave New World, and Bradbury's Fahrenheit 451 represent shadow texts frequently crossing through the overall V for Vendetta narrative
." Sounds more 'film studies' than anything. It's $35.00.
Suppli Vol. 2
: I haven't read any of this ongoing Mari Okazaki josei series, chronicling the intertwined work and love life of a woman approaching 30, but it's highly regarded among some critics, and popular enough in Japan to have inspired a live-action television show.
It looks pretty
. Maybe worth looking at? Tokyopop has it, at $10.99.
Welcome to the N.H.K. Vol. 6 (of 8)
: More otaku horror, as Our Hero runs through arcades and pachinko joints, and winds up homeless. Comedy and antics! I notice the anime adaptation is now starting out on R1 dvd, so maybe it'll give the series a boost (and yes, I know they're both based on a prose original)?
Empowered Vol. 3
: More Adam Warren and ripping girl costumes from Dark Horse.
You know it
. $14.95. And don't miss your regular Mignola dump with
Abe Sapien: The Drowning
#2 (of 5) and
B.P.R.D.: 1946
#3 (of 5).
FLCL Novel Vol. 1 (of 3)
: And speaking of which - yes, you delighted to the anime, sang along with the albums and scratched your head meaningfully in the direction of the manga, but are you ready for
FLCL
...
the prose??
I suppose Tokyopop is hoping you're curious enough to lay down $9.99 just to see how the fuck this is supposed to work. At least it's by Yoji Enokido, the man behind the anime's script, and a key writer for the likes of
Diebuster
,
RahXephon
and
Revolutionary Girl Utena
. Try to hear the Pillows in your head.
Labels: this week in comics