"Send a 'fucking droid' down with one of my sperm capsules."
*
Endless Yapping Dept
: So, Chris Mautner interviewed me for his column on Newsarama's blog, and
here's the initial results
. This installment is mostly about my background and stuff, so the real flop-sweat bits where Chris asks me a question and I stutter out hopeless nonsense for paragraph after grueling paragraph will only show up later.
*Er, the quote above isn't from the interview, by the way. It's actually from -
MOME Vol. 10 (Winter/Spring 2008)
This will be out in a few weeks, probably. It's the newest $14.95 volume of Fantagraphics' ongoing quarterly anthology from a semi-fixed crew of contributors. Fair warning: Eleanor Davis is absent this time around, Tim Hensley's excellent
Wally Gropius
has only a single teaser page (albeit a fine one) to follow up last issue's amazing events, and Al Columbia provides only the front and back covers.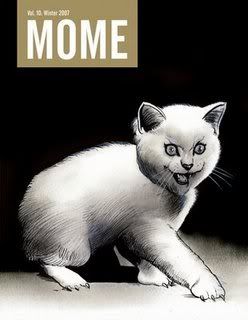 On the other hand, there's three new artists brought into the fold, the most interesting of which to my mind is
Dash Shaw
, whose 2006 book
The Mother's Mouth
(from Alternative Comics) showed a lot of good storytelling potential in its interrogation of the comics form, even as the story it actually told didn't register so much.
His contribution here,
Look Forward, First Son of Terra Two
, shows a more assured style, being six pages of carefully tuned sci-fi concerning the interactions of people from two worlds - Terra Two, which seems much like our Earth, and Terra One, where everything moves backwards by our understanding of time and space. It's a keen allegory for cultural miscommunication, and Shaw nicely exploits the small details of how such at-odds peoples might interact, with one side growing younger as the other ages, the former responding to questions before the latter can ask them. Two such worlds can never quite co-exist, as you might guess, so Shaw codes all of the accessories of each world by color.
Besides giving the story a likeably glowing feel, Shaw's hues silently undercut every one of his characters' attempts at meaningful interaction - lives are built, money is made and loves are forged, yet it's always obvious that the understanding between these cultures is built on novelty and futile struggle. The only major deviation from Shaw's color scheme comes in a sequence of person-to-person pain and violence, blood being a universal red.
A hoary notion, that, but Shaw's stylized depiction of cross-cultural communicative struggle is beguiling enough that its eventual lunge into wartime allegory seems naturally grown, and its final notion that even the most conciliatory, peaceable understanding might never quite be grasped outside of individual social context is a disquieting one. It's the kind of story where your total attention is required -- a major storytelling jump is indicated by a small brush of color off to the side of one page, maybe
too
subtle a gesture -- but offers goodly reward from its short length. I look forward to Shaw's future
MOME
contributions, including
another story
next issue, as well as his 720-page(!!) graphic novel
The Bottomless Belly Button
, coming next year from Fantagraphics.
This volume's other new contributers include
John Hankiewicz
(of the Xeric-winning series
Tepid
and the collection
Asthma
), who offers
Success Comes to Westmont, IL
, a seven-page walk through the titular town in which the caption-based narration laments the gentrification of the area and his romantic life while the art dips in and out of symbol and various degrees of cartoon simplification, perhaps to express the changing character of the story's place. A chilly, ominous tone, although the particulars manage to be obscure and utterly familiar at the same time. More interesting is
Jeremy Eaton
's
Winchester Cathedral
, a 13-page illustrated story section (four small 'pages' per MOME page) reminiscent of Jules Feiffer in its curling doodles and playful cynicism - it's about the crimes and strife that keep a family together.
Of the returning artists, I was most taken by
Robert Goodin
's
The Ten Fools
, a nine-page reconstitution of an old Indian fable as a prolonged gag piece, with some really appealing, tactile cartooning on display.
The other stories vary, as they always do. Jim Woodring's previously Japan-only
The Lute String
concludes in a funny, visually striking (of course!) manner that nevertheless demonstrates through its reliance on fast narrative build that breaking it into pieces did it no favors whatsoever (the next two issues' obligatory 'seasoned vet' space will be taken by Killoffer, who'll have self-contained stories, I believe). Paul Hornschemeier's
Life With Mr. Dangerous
continues to putter along in presenting the inarticulate romantic travails of moody young adults - at least
this
chapter manages to structure itself into something sort of responsive to serialization.
But what's clear about MOME by this point is that it's reached a pleasing point of diversity in both subject matter and storytelling presentation. For every serial-unfriendly Woodring presentation, there's four pages of Kurt Wolfgang's
Nothing Eve
, deliberately arranged into a specific collection of thoughts that still moves the core plot forward. As drowsy as Hornschemeier's look at uncertain living can be, there's not far away another booming, bracing contribution by
Tom Kaczynski
, a nuanced four pages of male delusion, fetid heat and rotten industry. Kaczynski's also the featured interview this time around, and there's some great background on his personal worldview and philosophic intent. Check out his website and buy his
Cartoon Dialectics
minicomic collection - I'm glad to have found his stuff through MOME, and I hope its continued development leads readers to further discoveries.